AA/A/AE Tournament
23rd Annual AMHA
Christmas Tournament
The Ajax Minor Hockey Association has just completed the 23rd Annual Christmas Tournament. From all accounts it was one of the most successful tournament ever. A total of 110 teams from the United States, Quebec and all across Ontario participated in the Novice, Atom, Peewee, Bantam and Midget Divisions at the AA, A and AE Classifications participated from December 27th-30th.
After four long days of fierce competition and good sportsmanship the winners were decided in very interesting finals. The results are available here on our web site for you to get all of the tournament's complete results.
I would like to congratulate all of the winning teams and all those who competed in each of the Divisions. I know only one team can win, but, from the smiles on the faces walking around the hallway I think everyone enjoyed themselves.
I would like to thank the tournament volunteers that assisted us in making it the most enjoyable tournament possible. I would also like to the AMHA Board of Directors who assisted greatly in hosting this tournament. Special thanks to Brenda Budai, the Executive Administrative Assistant, Joan Miles and Faith Azzarello, who's extra efforts to make this a exciting tournament for all certainly paid off.
I hope to see many of you back in the future. Thank you and Happy New Year.
Bill Neadles
President
Ajax Minor Hockey Association
---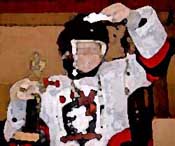 The Ajax Minor Hockey Association is pleased to invite applications for the 23rd Annual "AA-A-AE" Christmas Tournament (all Major divisions from Mite to Juvenile) being held from Monday December 27th to Thursday December 30th, 2004.
Tournament Schedules / Scores:
AE/Select – Tyke | Novice | Atom | Peewee | Bantam | MidgetA – Novice | Atom | Peewee | Bantam | MidgetAA – Novice | Atom | Peewee | Bantam | Midget
Other Tournament Details:Tournament Rules – Web | DOCArena LocationsAccommodation InformationTournament Application – DOC
Each team will be guaranteed three games.
Each Round Robin game will consist of a minimum of three 10-minute periods of stop time.
OMHA rules will apply and Tournament rules will follow acceptance of all applications.
The cost of this Tournament for teams from within the OMHA is $750.00 ($800.00 for teams from outside of the OMHA). This fee will include the Gate Fee for your team and spectators.
Each team submitting an application will be required to provide an official approved Roster Sheet from the OMHA (or similar governing body) or Player Base Cards.
NO TEAM WILL BE ALLOWED TO PARTICIPATE WITHOUT PROPER VERIFICATION BEING SUBMITTED WITH THEIR APPLICATION.
Travel permits or permission slips will be required from your local executive and travel permits will be required for teams from outside the OMHA.
Please make cheques payable to the "Ajax Minor Hockey Association".
Applications must be returned to:
Ajax Minor Hockey Association
P.O. Box 71
Ajax, Ontario
L1S-3C2
905-683-8281
[email protected]